Welcome to the 2023 World Elephant Day events page!
To add your event to the list, please use the Event Submission form or e-mail the event information to info@worldelephantday.org!
Please include the time and location of your event, a graphic, logo or poster promoting your event and organization, and a description of what you are doing for World Elephant Day 2023.
We welcome all individuals and organizations to submit their World Elephant Day events.  Please note that these events are organized by third parties and do not necessarily represent the views, opinions or operations of World Elephant Day or World Elephant Society.
Note: all events are posted in the order they are submitted – be sure to scroll down for all the World Elephant Day events taking place around the world!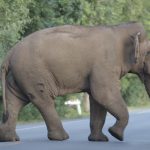 I am a wildlife filmmaker, photographer and keen cyclist based in Thailand. I recently completed a short documentary about the problems of Asian elephants crossing a major highway on the edge of Salak Phra Wildlife Sanctuary in Western Thailand. To further highlight the threats to our local elephant population and...Read More »
---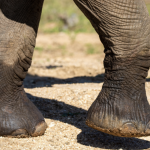 World Elephant Day is less than one week away! Jabulani Safari are joining HERD for their World Elephant Day event, Trails for Trunks, and training has already begun. From our ranger team to our butlers and managers, everyone is getting ready to go wild for elephants! We invite you to take part...Read More »
---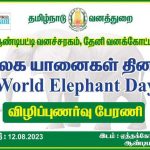 In lieu of World Elephant Day celebration 12th August 2023 under the guidance of our respected District Forest Officer, Theni Forest Division, Theni. Aundipatti Range has organize rally programme for school students and conduct drawing competition for school students and same distribute certificate and memento.
Organizer Name:
D. Arulkumar
Forest...Read More »
---