Celebrate World Elephant Day in the Hamptons
with these special events to help protect Asian and African elephants: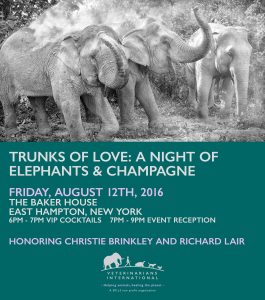 Veterinarians International is holding a cocktail reception for World Elephant Day. All funds will go towards Veterinarians International Asian elephant care program.The event is in honour of Christie Brinkley and her family for their support of elephant conservation, and a special presentation of a Lifetime Achievement Award to RICHARD LAIR who has worked with Asian elephants for over 30 years.The food will be presented and cooked by well-renowned chefs: Maurizio Marfoglia from Dopo La Spiaggia, Jodi Moreno from Whats Cooking Good Looking and Elisabeth Johanson of Swedish Culinary Summer.
WHEN August 12, 2016 from 7:30 to 10 PM (EST)
WHERE The Baker House, East Hampton, New York
---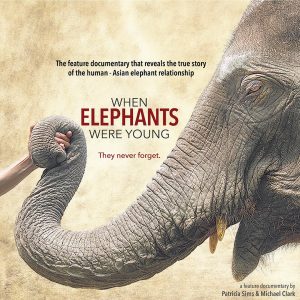 Veterinarians International is holding a special film screening of feature documentary When Elephants Were Young, narrated by William Shatner.
When Elephants Were Young reveals the true human-Asian elephant relationship by following the story of a young man and his young elephant who live and street beg in Bangkok until the opportunity comes to release the elephant to the wild.There will also be a wine reception, and panel discussion with leading Asian elephant conservationist, Richard Lair, When Elephants Were Young Producer/Director and Co-Founder of World Elephant Day Patricia Sims, and Founding President of Veterinarians International, Dr. Scarlett Magda.
WHEN August 14, 2016 from 3:30 to 7 PM (EST)
WHERE The Castle Barn at Nova's Ark Project
60 Millstone Road, Water Mill, New York
---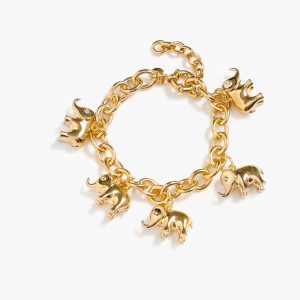 J. Crew is debuting this beautiful elephant charm bracelet on World Elephant Day, August 12, to benefit the elephants of the David Sheldrick Wildlife Trust. 50% of the retail price of the bracelet go to the life-saving field work of the DSWT. The elephant charm bracelet ($58) will be available online and in all stores nationwide beginning World Elephant Day, August 12.Visit either our East Hampton or South Hampton location all weekend as we will be serving elephant cookies all day long in celebration of elephants.
J. Crew East Hampton
14 Main Street
East Hampton, NY 11937
Mon-Sat: 10am-7pm
Sun: 10am-6pm
J.Crew Southampton
84B Main Street
Southampton, NY 11968
Mon- Sat: 10am-6pm
Sun: 11am-5pm