Launched in 2012, World Elephant Day continues to shine global attention on the plight of African and Asian elephants.  Honoring this special day provides us with an opportunity to bring the world together to help conserve and protect elephants from the numerous threats they face each and every day.
At the David Sheldrick Wildlife Trust, every day is centered on Africa's elephants and an effort to save and protect their future.  That work is accomplished through the determination of our Keepers, anti-poaching teams, mobile vet units, pilots and community initiatives staff.
As a DSWT supporter, World Elephant Day is the perfect opportunity to share your passion with family and friends. Here are a few ideas of how to do just that:
Attend a local event or host one of your own
Tell others of your pledge to never buy ivory
Follow us and share us on social media
Take up a collection among your co-workers to foster an orphan
Take advantage of one of the opportunities below
Forward this email to at least 3 friends
and so much more!
Your support helps us make every day about elephants. Thank you!
Below is a list of DSWT activities for World Elephant Day
---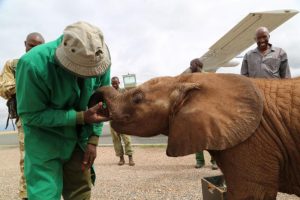 Ambo is a big favorite with the little matriarchs of the nursery herd!
An entire community came together to help this little elephant in need.  Trapped in the mud of a watering hole in Amboseli National Park, it took the efforts of a concerned village, our friends at Big Life Foundation and the DSWT to rescue 4 month old Ambo.
Initially fraught from his frightening ordeal and separation from his family herd, little Ambo has done well to settle into the routine of the Nursery.  It seems his lively and sweet character has really captured the interest of the older females, and is often found in the midst of their attention.  He has an especially deep fondness for Oltaiyoni, and the two are often seen browsing shoulder to shoulder.
Watch Ambo's Rescue and learn more about his life at the DSWT Nursery.
---
Join DSWT for a Facebook Live Q&A with
CEO Angela Sheldrick and Head Keeper Edwin Lusichi
On World Elephant Day, DSWT will be hosting a live Q&A at the Nairobi elephant nursery.  The Trust's CEO Angela Sheldrick and Head Keeper Edwin Lusichi will be answering your questions during this very special opportunity.  The Q&A session takes place at 9:00 EST on Friday, August 12th.
Stay tuned to Facebook for a special DSWT World Elephant Day Video release on August 12th!
---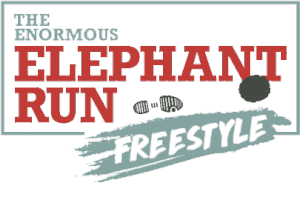 Ready to join our running/walking herd?  Whether you're a foster parent, elephant-lover or just love to run/walk/jog, we want you to join us at The Enormous Elephant Run: Freestyle – New York on November 19th in New York's picturesque Central Park.
Previously know as the 'Saving The Elephants Run', we are so excited to welcome this awesome annual run into DSWT's Enormous Elephant Run series. Places are limited so make sure you REGISTER TODAY!
Can't make it to New York?  Take part wherever you are by registering as a Virtual Runner to participate in your city or town!