Lucy the elephant has long been a controversial subject between animal activists and Edmonton Valley Zoo staff. Recently, Jane Goodall switched her position to support the zoo's, stating that moving Lucy to an Elephant sanctuary would pose a bigger risk to her life than keeping her where she is. Is it now too late for Lucy? If it is, what can we learn from Lucy's life and legacy?
By Zara Diab
Editor's Note:  This post is part of a series celebrating World Elephant Day's 10th anniversary. To mark the occasion of our decade protecting elephants and educating the public about these magnificent creatures, we have launched the Big Five campaign, which is highlighting five issues critical to the survival of elephants. This first piece concerns the first of the Big Five issues:  Unethical Tourism and Captivity.
Lucy (originally named Skanik) was not yet a year old in 1975 when she was captured and her freedom as a wild elephant in Sri Lanka was ripped away from her. Terrified, confused, and without her family, the helpless baby Asian elephant was shipped to Colombo zoo briefly before being shipped again to the Valley Zoo in Edmonton, Canada. Today, almost 46 years old and suffering through a plethora of medical issues as a result of her captivity, Lucy is still resident of the Valley Zoo, in spite of a long, ongoing fight for her humane retirement at an elephant sanctuary.
The fight for Lucy's wellbeing began in 2006 — a decade and a half ago. Zoocheck and Voice 4 Animals, two prominent animal rights groups, have been engaged in several legal actions on behalf of Lucy during this time to no avail. The ongoing plea to grant Lucy a transfer to a more suitable home asserts that her enclosure in the Valley Zoo is not only inappropriate, but actively harmful to Lucy's needs and wellbeing. Among other concerns, the enclosure that has been holding Lucy for almost 44 years is much too small, subject to Edmonton's harsh winter climate, and keeps Lucy socially isolated from the companionship of other elephants. The Edmonton Valley Zoo has maintained for this 15-year battle that due to Lucy's health conditions, it would be too great a risk to her life to attempt to move her. Although there are many groups still fighting to move Lucy, such as LEAP (Lucy's Edmonton Advocates' Project) and Friends of Lucy, recent developments have complicated the matter further, suggesting that the zoo's resistance to comply has gone on for so long that it is now, indeed, perhaps too late to do so. In the end, there are risks to Lucy's health with either course of action, and it is unfortunate that Lucy is not able to communicate what she wants for herself.
In 2019, Zoocheck released a statement after reviewing Lucy's updated medical records in collaboration with a globally respected, independent veterinarian. They stated that the records showed that "Lucy's health has gotten significantly worse," and that she is likely "nearing the end of her sad, lonely life." Zoocheck described Lucy's latest state as "being kept alive on medication the way a palliative care patient is treated," and they concluded that "it could be too late to move her safely."
To the same end, Jane Goodall retracted her initial video statement pleading for Lucy to be moved, when in February of this year, the Jane Goodall Institute  of Canada (JGI Canada) released a statement updating their recommendations for Lucy. After reviewing her most recent medical records and evaluating the veterinarians hired by the zoo to conduct the medical examinations, JGI Canada concluded findings consistent with the zoo's, stating that "the risks of moving Lucy outweigh the potential benefits to her." JGI Canada's backpedaling stance concerning Lucy captures the tragic complexity of discerning the right thing to do for her under such circumstances .
In a letter from JGI Canada's director, Dr. Rick Quinn, to Dr. Jane Goodall on January 24,  2021, Dr. Quinn details his findings after speaking individually with Lucy's full-time veterinarian, Dr. Marie Josée (MJ) Limoges, and two of Lucy's zoo-hired consultant veterinarians who had conducted periodic independent assessments, Dr. Jim Oosterhuis and Dr. Ellen Wiedner. All three veterinarians were found by Dr. Quinn to be well-educated and experienced in the care of elephants, and all three offered conclusions that support the zoo's decision to not move Lucy. They cited Lucy's poor health, particularly her respiratory issues, but somewhat contradictorily do not neglect to praise how well she is doing. Dr. Oosterhuis, who has examined Lucy 11 times since 2002, told Dr. Quinn that Lucy "does not look like the same elephant that he first saw in 2002," but that she was much better. In the same conversation, however, he detailed worries about Lucy's breathing troubles, which have now made walking up a small hill challenging for her, and he "was most concerned that the breathing difficulty now extended to periods when she was lying down." He described Lucy's face as being "like that of the trumpet player Dizzy Gillespie as she forces air into her lungs." Perhaps Lucy has improved in some ways over the years, following any little changes the zoo has made in response to gained insight on elephant care and animal rights, but she is still a captive elephant, which is a fact ever-detrimental to her well-being.
A common theme that threads the veterinarians' comments about Lucy (as well as the zoo's own claims on their website) is how "well-adjusted" or "well-adapted" she seems to be. In response to Dr. Quinn's question about whether Lucy is happy in her surroundings, Dr. Limoges "suggested that she would not characterize her as 'unhappy' however preferred the term 'well-adjusted.'" Of course, Lucy has had almost 44 years in which she had little choice but to adjust, and her issues with her feet, arthritis, and being overweight — all common medical problems among captive elephants — hardly support the "well" in "well-adjusted." The same consoling sentiment appeared when Dr. Wiedner spoke of Lucy's respiratory issues. She told Dr. Quinn that there is now only a thin slit remaining open in Lucy's trunk, but "miraculously, she has adapted and found a way to force air into her lungs via her mouth." It is not natural for an elephant to breathe through the mouth, and it causes Lucy other challenges to do so. Yet, her respiratory issues with her trunk left her little choice but to find a way to breathe through her mouth, instead — to adjust.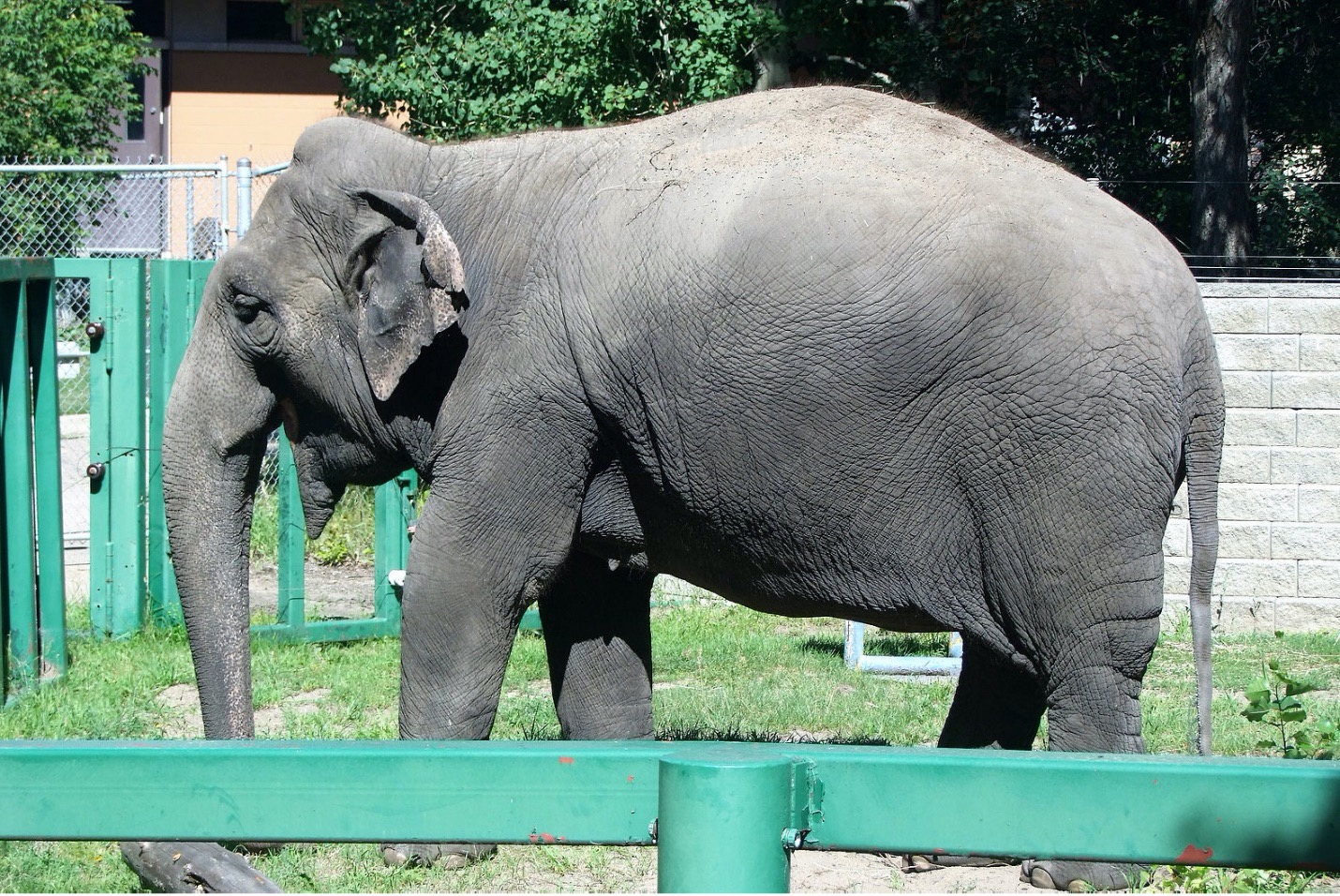 Lucy in her enclosure at the Edmonton Valley Zoo on July 24, 2016. Photo by Sam Whincup and Mary-Ann Holm of Lucy's Edmonton Advocates' Project (LEAP).
In conclusion, Dr. Quinn determined that it is too big a risk to move Lucy at this advanced stage of her respiratory issues. Regarding Lucy's caretakers, he stated that "It has been enlightening to meet the other veterinarians, particularly once I realized that they, like me, genuinely care about Lucy's well-being and wish to do the right thing in an unfortunate situation." But it leaves one to wonder whether there was a time in this decade and a half long battle for Lucy's transfer when it was possible to trade Lucy's forced adjustments for suitable surroundings.
In 2009, Dr. Debi Zimmerman published "One Veterinarian's Search for Truth in the 'Lucy the Elephant' Debate" in which she outlined several reasons why the Edmonton Valley Zoo had been refusing to move Lucy to an elephant Sanctuary. Among the reasons, which included her health concerns, Dr. Zimmerman wrote that two of the eleven given reasons were that the zoo's logo was an elephant, and that Lucy was the zoo's "cause célèbre" for fundraising and popularity. Those two reasons are now outdated with the rebranding of the zoo's logo and the growing uproar of animal rights advocates. However, it is still important to consider that such reasons may have had gravity at this controversy's origins and what residual, unconscious weight they may contribute to the steadfastness of the zoo's position. It is also important to note that in Dr. Quinn's letter to Dr. Goodall, he stated that both Gary Dewar, the latest Valley Zoo director, and Dr. Limoges agreed that "were the decision to obtain an Asian elephant orphan for their zoo to be made in 2021, it would not happen."
Despite the recently revised conclusions of JGI Canada and Zoocheck, Lucy advocacy groups such as LEAP and Friends of Lucy remain firm in their beliefs that Lucy should be moved. In reaching out to each group for a comment, they both reiterated that they hold Lucy's well-being as the top priority and would like a veterinarian who is not affiliated with the Valley Zoo to provide an objective examination and final determination on the matter. LEAP clarified that they "are not saying that Lucy should be moved if there are true risks to her safety and well-being." Based on other successful elephant transports, LEAP remains optimistic about Lucy's chance of survival, were she to be relocated, but they want this confirmed by a Sanctuary elephant veterinarian. LEAP explained that such veterinarians are "the experts," since their job involves the relocation of elderly and sick elephants to sanctuaries, and "they have never lost an elephant in transit – their reputation depends on that." LEAP pledged their support for Lucy's well-being in either outcome of such an examination, offering that if a Sanctuary veterinarian comes to the conclusion that transporting her would indeed be too risky, LEAP will "fundraise to help the zoo to finally build a better, bigger and more natural enclosure which would include a much needed hydrotherapy pool and mud wallow."
In the same vein, Friends of Lucy remarked that in the Valley Zoo and the City of Edmonton's insistence on keeping Lucy in "an impoverished environment for over forty years," they are continually "ignoring science and abandoning compassion." The advocacy group remarks that Lucy's quality of life is "far less than she deserves now and has deserved over the years." Friends of Lucy has been working to support Lucy for many years and is intimately acquainted with her situation. In February 2015, Friends of Lucy purchased an elephant-sized winter coat for $250 to donate to Lucy in order to help her remain comfortable through the harsh Edmonton winters and still be able to go on regular walks. The zoo rejected the donation, saying that Lucy did not need the coat, leaving one to wonder why the zoo is so opposed to outside help when it comes to Lucy. Friends of Lucy commented that "many have opined on [Lucy's] health and well-being from a distance, often building opinions on opinions (opinions that some would argue are biased or ill-informed). For many years, Zoocheck and advocates worldwide have been requesting a thorough exam of Lucy by a team of experts agreed upon by both the zoo and advocates. We continue to question why the City and Zoo opposes a collaborative, compassionate, and transparent effort — truly working together to determine what is best for Lucy."
Notably, Dr. Jonathan Cracknell, British zoo veterinarian, visited Lucy in 2016 for over a week. Dr. Cracknell was selected by Zoocheck initially but did not make it to visit Lucy until he was later selected by CAZA and the Valley Zoo. His conclusion was that Lucy's "respiratory pathology would not make transfer impossible, but it would be highly likely to carry the risk that she could potentially die en route. If to be undertaken, it would require meticulous planning and ethical consideration balancing the perceived welfare compromise of a lone elephant versus the perceived risks of the respiratory compromise — both are unknowns." On the matter of Dr. Cracknell's visit, Friends of Lucy notes that, "he was one of many vets and experts that Zoocheck reached out to when looking at building a potential multi-disciplinary team to look at Lucy's health and well-being — should the City and Zoo ever agree to moving forward with this compassionate and balanced approach." They note that Zoocheck's request over these many years has remained consistent: for an evaluation to be conducted by a multidisciplinary team that is collaboratively agreed upon by both sides.
As it stands, Lucy's records seem to suggest that although moving her might be in the realm of possibilities and come with a plethora of potential benefits, it would be a huge risk. It is true that a lot of Lucy's health problems are due to her captivity, and had she been moved at the start of this debate 15 years ago, she may have had a greater chance of survival and of building a life with other elephants that had room for happiness, rather than simply adjustments. However, it is also true that the event of moving Lucy now may not only be risky in terms of the careful accommodations that would have to be made for her medical issues, but it would also be another traumatic ordeal for Lucy, just as it was for her when she was torn away from her life as a wild elephant in the first place. Lucy has spent almost 44 years in an inappropriate confinement that has slowly chipped away at her resilience. Though she has found many ways to adjust, she is also suffering in many ways. Still, the only family and love she knows is from her caretakers at the zoo to whom she is bonded. To attempt a terrifying, confusing, and risky move now is to also take her away from the only familiar connections she has. As Dr. Quinn noted, the people on both sides of the issue are people who care for Lucy in one way or another.
The unfortunate and seemingly unsolvable issue at the heart of this matter is that among all the voices speaking out for Lucy, Lucy cannot speak for herself. If Lucy is to be moved to a suitable home for her well-deserved retirement, and the risks that threaten her life win out, will that have been worth it? Will Lucy have thought that it was worth it?
Lucy's tragic life leaves us with a heavy legacy and a valuable lesson. If the self-fulfilling prophecy the zoo has imposed upon Lucy has now come to fulfilment, if she is now too sick to be moved, what are we going to do for the other captive zoo elephants? How are we going to make the right adjustments in our interactions with elephants, with wildlife, and with our delicate ecosystems moving forward?
With the recent introduction of the Jane Goodall Act (Bill S-218), we can find motivation in the fact that work is being done and that change can happen. Jane Goodall and Senator Murray Sinclaire have teamed up to push for this act, which "amends the Criminal Code to create offences respecting great apes, elephants and certain other non-domesticated animals in captivity," and bans the importation of ivory and hunting trophies into Canada. You can help support the bill through Jane Goodall's website. In addition to the benefits this act will introduce for elephants both captive and wild, there are many other signs of positive progress, such as the development of Animal Law. Harvard University's Animal Law and Policy Program is one place where the important work of establishing and enforcing rights for animals is being done. More information on the program and their projects can be found on their website.
Let's learn from our faults. Let's learn from our losses. Let's learn from Lucy.
---
Zara Diab is a Canadian writer and researcher for World Elephant Society and a PhD student in the English and Writing Studies department at Western University. She has been passionate about elephant conservation since the tragic 2016 Earth Day death of Sambo the Asian elephant, who died of heat-exhaustion from being made to carry tourists in Cambodia.